Cloudy days seem to be the occasion when I dig in my craft desk the most. Today I was going to share with you a crafty idea for fall that you could do with your kids, but I changed my mind when I found these beads hidden away in the back corner of my always so messy desk.
I had temporarily forgotten about these beads, and was so excited to find them! I used them along with some ribbon back in the spring to make this necklace.
Upon second glance, it's not exactly a spring looking necklace is it! This is just what I needed today- a quick, fun craft. I pulled down my box of ribbon, which I am no stranger to, and riffled around for the perfect ribbon.
Let's just say I'm slightly obsessed with ribbon. My ribbon box is no small box. When you open up the lid, this is what you see.
A big ribbon mess! I love it though. Oh, how I love ribbon. If every craft project I did could incorporate ribbon, believe me it would.
This brown and white polka dotted beauty is what I chose to pair with the blue gray beads.
I am so excited to share this simple tutorial with you today. Projects like this are ones I like to call "lap projects". They are so easy to put together that you could just do them in your lap while you are talking on the phone or watching television. My kind of craft.
To make your own beaded ribbon necklace, all you are going to need is ribbon and some large beads. Now, you are going to need about double the amount of ribbon than you think you will need. And your beads need to be large, with large holes for threading. It's just easier to thread ribbon through big beads with big threading holes.
First things first. Cut your ribbon double the length that you want your necklace to be. I just measured mine by looping the ribbon around my neck and then adding some length.
Now, cut one end of the ribbon at on a sharp diagonal.
Using scotch tape, make a needle by wrapping the tape around the end you just cut. The needle needs to be long and as thin as you can get it.
Lay out the beads in a pattern that you like. Now I realized I just called this project a "lap project", and now I am asking you to lay out your beads. This step is totally not necessary if you want a more random looking necklace, or if you are confident in your pattern making skills on the fly. I think that I am just OCD. I laid out my beads to double check my pattern.
I really like the two amber colored beads that I stuck in to match the ribbon.
Start threading your beads with the end of the ribbon that you made the needle with the scotch tape. You want to stop with a lot of extra ribbon on the end. In other words, don't push your bead all the way to the end or you will not be left with much ribbon when it comes to time to actually wear it and tie it around your neck.
After you thread a bead, tie a knot right below the bead. The first bead will need a knot before it too. Make sure that your knots land as close to the beads as possible. You don't want any wiggle room for the beads on the ribbon.
Keep threading your beads until you have them all on the ribbon.
When you are finished you will have something that looks like this:
I added a bow a few beads down on the left side. I made this necklace a little bit differently than the first one I made. When it comes time to wear it, this one is made to tie in a bow in the back. The other one is made to tie on the side.
(Just in case you are curious... the ribbon came from Hobby Lobby, and the beads did too. The brand of the beads is In Bloom. Hope that helps. But any ribbon or beads should work.)
It's that easy-peasy. Now you have a super cute necklace to spice up any outfit.
That's all for today! Thanks for being here.
I'm linking up at: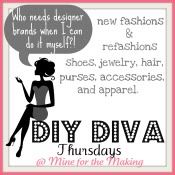 Holy Cow! I've Been Featured!!!